Fall Frenzy Days begin September 17 2021
Parties in the Fall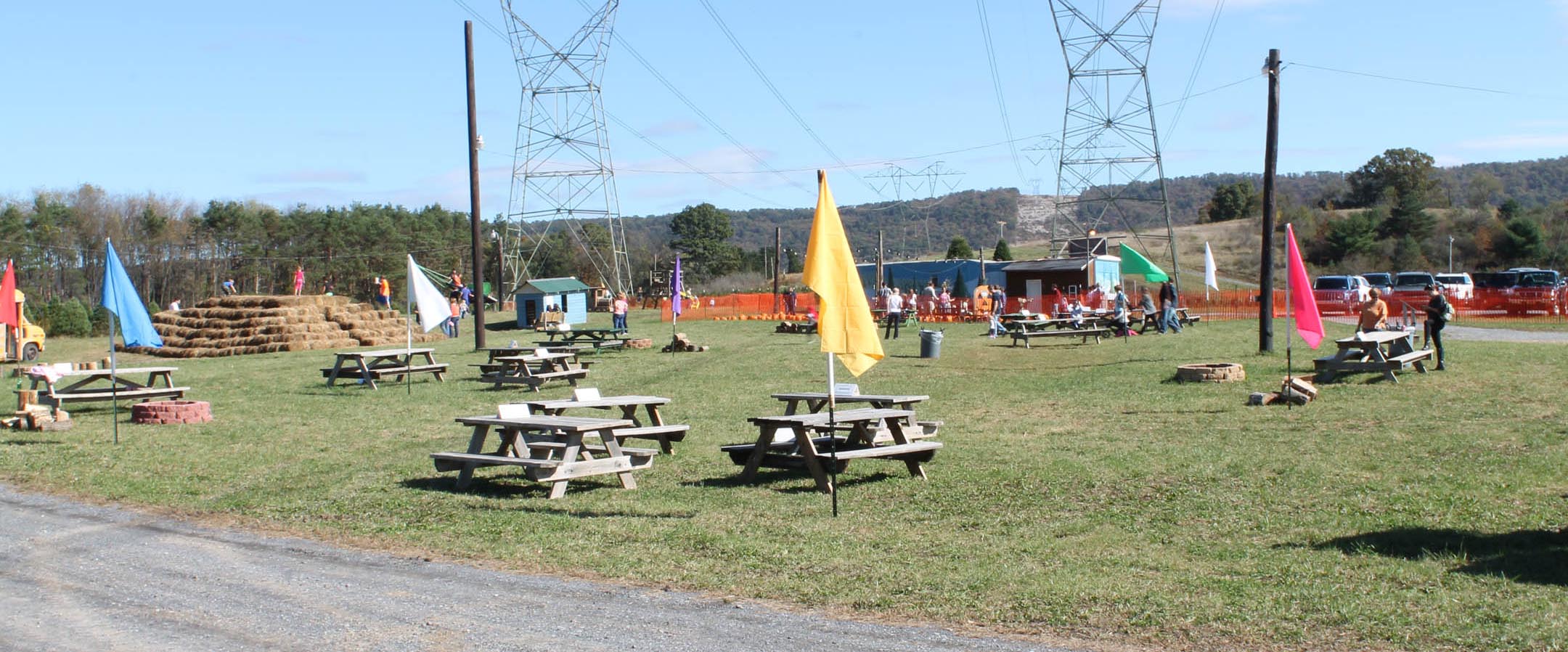 We offer a truly unique day of fun to your family, clients, or associates! Our tree farm is a wonderful place for school birthday parties, family outings, celebrations, company picnics, or just about any occasion, with tons of activities to make your event memorable.
Please call 814-832-3430 or email bookhammer@aol.com to schedule your party or tour.
Do more with your visit to JB Tree Farm!
We are open weekends starting September 17, 2021. Have a leisurely day enjoying hayrides, hiking, and pumpkin picking. Find the correct path through the trails in the corn maze and complete the game card. We have a great selection of all sizes of pumpkins, cornstalks, Indian corn, and popcorn. The children can visit with our friendly animals and enjoy our enlarged play area, which includes a fantastic hay mound, boat, sliding board on a climbing fort, wooden train, playhouse, a rocket climbing slide and short school bus. A pirate ship including a slide and swings was new for 2019.
Normal admission fees apply for groups of under 20: $12 for Regular, ages 10 to 61, $8 for Senior, 62 and older, and $8 for Junior, ages 4 to 9. Part of the admission fees will be used for missions again this year.
Admission includes:
Unlimited access to the 6 acre corn maze; you may re-enter the maze, but the prize for solving the game is only awarded once
Unlimited "public" Hayrides; "private" rides will cost $25 per wagon load.
Unlimited access to the Play Area, an unusual and creative area for the young and young at heart
Visit our Nigerian Dwarf goats and their kids
Customize your party with some or all of the following:
Picnic Tables: $5 per table; additional $15 for a fire; additional $5 for electric outlet. All tables in the picnic area are reserved except by the public fire.
Groups of 20 or more will have two free tables, additional tables are $5 per table
Hayrides: schedule a private hayride for your group for $25 per wagon load
Small pumpkins $1.50 each or gourds for $1.00 each
You will have your designated area for 2 hours. Additional time may be possible for a fee, depending on the schedule
To schedule a party, call 814-832-3430 for available dates and times or email bookhammer@aol.com. In case of rain, we have a wagon with a canopy, plus our barn complete with decorations may be available for your cookout, first come, first serve.
Parties can be scheduled during these times:
Party Hours
Friday: noon - 10pm
Saturday: noon - 10pm
Sunday: noon - 7pm
Large groups could also be scheduled on a Saturday morning.
IMPORTANT: How to Check in
One contact person for your group should call us at 814-832-3430, or Evelyn at 814-934-0432, when you arrive and after you have counted your age groups. Go to the "Decorating room" window to finish your check in. There will be a sign on the window saying "Reserved Party Check In". Please pay by cash, single check, or credit card when you arrive, at least 20 minutes before your start time. A receipt and wristbands will be issued to you.
Following these steps in order and to the best of your ability will help us to keep the check in process as smooth as possible:
Please arrive about 20 minuted before your party's start time.
Count your total participants and tell us how many are: Regular (ages 10 to 61) and Senior/Junior (ages 4-9 and 62 and older). Munchkins (0-3) are free and do not need to be counted. Call the Christmas Shop at 814-832-3430 or Evelyn at 814-934-0432; Evelyn will meet you to finish your check in.
In the outer Barn room, just to the left of the large main door as you come in, is where you will meet Evelyn at the window. That is the window to the "Decorating room".
You will pay for your party and recieve your receipt and wristbands at the window.
General Information for Parties
Many party sponsors want to pay for the children they invite to parties but not cover all of the parents bringing or accompanying the children, which is very understandable. If you wish to communicate this with the parents of the children whom you invite please explain that the party will take place within the General Admission area for reasons of safety and security. The General Admission area is contained by a fence and every person must be wearing a purchased wristband to gain admittance to the General Admission area. There is a check point as one leaves the barn area and before entering the picnic and play area. Wristbands must be worn inside of the picnic and play area.
Party sponsors are responsible for being sure ALL guests receive a wristband either purchased by party sponsors or the guests themselves. Guests may not go into the picnic area before acquiring the wristband. If sponsors purchase the bands, please wait in the large barn or the small party waiting area near the pumpkin pay register until all of your party arrives. If guests are to purchase their own, please instruct guests to go in to THE CHRISTMAS SHOP to purchase their wristbands before going out into picnic area. Guests arriving late to a sponsored party should contact the sponsor for wristbands or purchase them in the Christmas shop.
Prices are $12 Regular admission (ages 10 to 61), $8 Senior admission (ages 62 and up), $8 Junior admission (4-9), and Munchkins (3 and under) are free. If any of the guests are not interested in doing the Maze and Hayride, but would still like to accompany the Party, they can purchase a "Play Area Only" wristband for $3; this will allow them to be in the Play Area and Party Area, but not in the Maze or on Hayrides.
Group Discounts
If you have 20 or more paid admissions in your group, the tour rate will be discounted by 10%. Admission MUST be paid all at the same time, by one form of payment, by one person.
Youth groups and other church groups of 20 or more will receive a special discount. Unfortunately, we have had problems with youth groups causing damage and misbehaving. We love having these young people here and believe it is very important for them to come. However, if you bring a youth group these rules must be followed. The rules are not in place to inhibit the enjoyment of the youth but instead to allow the maze to exist for all to enjoy it. These are the simple common sense rules: No running, smoking, corn picking or corn throwing, stay on the path, do not cut through the corn. Many hours of planning, planting, construction, weeding, forming, and maintenance have gone into the maze each year. Our maze staff works hard to assure that vandalism is not happening, but we also need the accompanying adults to stand firm about this please. If all these conditions are met, at the end of your time here your group will receive a 20% refund on their admission.
back to top